Overview
Edit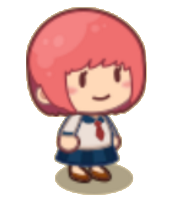 The Female Student is a shopper who can be unlocked at level 2, after the purchase of Burger shop for 750 Coins, and the investment of Milkshake for 2,000 Coins.
Appearance
Edit
The Female Student has short pink hair, in the style of a bob and a fair skin tone. She has brown eyes, brown lips and pink cheeks.
She is wearing a typical Japanese schoolgirl outfit: a white collared shirt with a red tie, a blue skirt and red flats.