Welcome to Happy Mall Story Wiki
Welcome to Happy Mall Story Wiki! This is the first wiki dedicated for Happy Mall Story! Happy Mall Story is a game where you build, manage, and design your dream mall. There are many shops, decorations, and cute costumers to unlock. Also help your shoppers, earn stars, and activate fever mode! Use your imagination to make the most beautiful and popular mall in town! Are you ready to play?
About Happy Mall Story Wiki
Welcome to Happy Mall Story Wiki! No matter improve or expand pages, you're very welcome to click the

button and start editing, or visit our Forum area then start the discussion! If you have any questions, please feel free to ask our top admins - NerdyMovieStarHWU, HappyMallStory, Laundry Machine and Kreativepixels, enjoy editing!
Question: There are only two types of shoppers
,
visit my mall, how can I attract more various of shoppers?
Answer: When you build some shops, you will probably see this notification
on upper right corner. Shoppers can be unlocked by investing it. But how to invest? First, you can look for

(This icon), which can be found on upper left corner, click it, and you will see that there are some investment applications listed on the window, invest them, and the new shoppers will appear in your mall!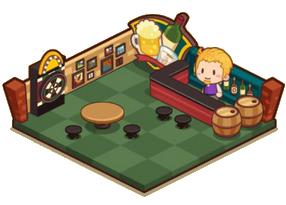 Bar is a building which is unlocked at level 18. It takes 4 hours to build and costs 

.
Dialogue
"Slush!"
"Ahh.. Nice!"
"Can I have one more?" (Shopkeeper will give one more wine to shoppers)
Greetings Fandom users! Recently we have updated "Levels" section on the building page, we will provide more informations and details to build the contents. (Tiffany & Go page is a typical example). With one person's strength is impossible, so we need your help! Just click the

button and start fill these blanks!
Happy Mall Story Official Trailer