The
Task Manager
is the feature found in the upper left corner of the game. You can
invest to get more kinds of shoppers
, earn a
diamond
from completing tasks, or
build a new floor
.
Build New Floors
Edit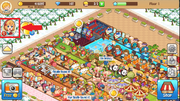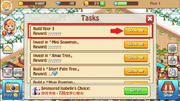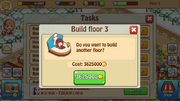 Every five levels the player reaches allows them to build a new floor, but where can they build it?
First, the player should open the task manager.
Second, (Once you reach Level 5), the player can see the "Build Floor" button in the task manager, and then press the "Show Me" button.
The player will see more details because the cost when the player builds a new floor is the same as the normal cost when expanding, so when the player levels up, the proceeding costs will be higher. The player can choose to build a new floor or keep expanding separate floors, but once the floor can no longer expand, the player will have to build new floors.
Investments
Edit
After building a particular shop, sometimes Investments will appear in the task manager for the player to buy. The investment will not only give the player a new item to use on shops, but also a new Shopper will visit the mall.
Earn Diamonds
Edit

The player will receive diamonds as a reward for completing tasks given. One diamond is rewarded for building a shop, attraction or decoration. However, the player can receive between 2-3 times the amount of diamonds when upgrading shops into higher levels.